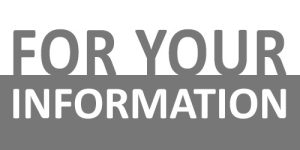 ATTENTION: The Pastor/Leader
Thank you for booking Frank to minister with you. This information has been compiled as a result of Frank's many years of experience on the road. We provide this information for the following reasons:
To answer frequently asked questions in advance.
To help you with your planning.
To give Frank consistency.
To avoid any misunderstanding.
To facilitate a smooth, enjoyable, and productive time of ministry.
To glorify the Lord by doing everything with excellence – 1 Corinthians 10:31 Whatever you do, do all for the glory of God.
Please pass the information on to whoever will be coordinating the specific areas of responsibility. Print or bookmark this page in your browser for future reference. Please email me if you have any questions.
God bless,
Susie Colvin, Administrator
Frank Butler Ministries
Travel Reimbursement
The following documents were sent to you:
Non-refundable airfare receipt.

Rental car receipt (if applicable).

Info Form.
IMPORTANT: Please mail us the following as soon as possible:
Reimbursement check for the airfare (and rental car if applicable) payable to Frank Butler Ministries.
Completed Info Form.
Our mailing address is, Frank Butler Ministries, 9423 Clipperwood Pl. Houston, TX 77083.
Ground Transportation
If you are providing a rental car at the airport: Frank will pick up the rental car upon arrival. There is no need for someone to meet him at the airport.
If you are providing a driver or loaner car at the airport: Please have the contact confirm the arrival time of the flight, as flights can arrive early or late. For convenience, have the contact park at the airport "cell phone lot" or other location near the airport. When Frank deplanes and retrieves his luggage, he will call the contact's mobile phone to arrange pickup outside the terminal.
Departing Flight
Please ensure Frank is at the airport terminal two hours before the flight's departure time.
Arrival at Services
Frank prefers to arrive 30 minutes before the starting time of a service or first service; and 15 minutes before the starting time of any additional services.
Lodging
The unoccupied dwelling can be an apartment, bed & breakfast, condominium, guest house, home, hotel (preferred), or townhome.
Please make the reservation well in advance to get the best price and availability. We make the following requests because of bad experiences in the past. Please ensure the dwelling meets the following criteria:
A smoke-free dwelling: Dwellings that accommodate smokers expose guests to secondhand smoke, its toxic residue, and the unpleasant stench of stale smoke. The US Surgeon General says there is no safe level of exposure to secondhand smoke. Exposure to secondhand smoke causes lung cancer, heart disease, emphysema, asthma, pneumonia, bronchitis, allergies, and ear, nose, and throat conditions.
A pet-free dwelling: Pet-friendly dwellings accommodate pets in any room and expose guests to fleas, ticks, dander, soiled carpet, foul odors, and pet noise. The American Lung Association says pet allergens cause irritation to the eyes, nasal congestion, coughing, breathing difficulties, allergies, eczema and rashes.

Clean, not dusty, musty, moldy or damp.

Running an air purifier or opening windows does not eliminate odors.
No roaches, flies or other bugs.

Secure, with lockable doors and windows.

Quiet AC and heating that works.

Microwave and r

efrigerator.

Good quality bed with soft/medium mattress.

No bedding with stains or odors.

Clean linens.

AC power outlets.

Workspace (i.e. chair and desk).

User name and password for WIFI (if available).

Closet, hangers, and hanging space.

Toilet paper, box of tissues, and fresh soap.

Clean towels, hand towels, and wash cloth.

If you book a hotel, one with a restaurant and room service is preferred.
Payment: If applicable, please complete payment in advance and provide the dwelling manager/staff with a credit card to cover incidental charges (WIFI, phone, snacks, room service, etc.) that are not part of the main bill.
Basket: Many hosts leave a "Welcome Fruit Basket" in the room. A welcome basket is not necessary, but Frank would appreciate some hand sanitizer and several bottles of drinking water for each night's stay (Aquafina preferred).
Thank you for accommodating Frank in a dwelling that provides a secure, clean, comfortable, and healthy environment.
Meals
Please provide lunch at a restaurant that has a menu that offers a wide selection of choices. No meal required before a service or after an evening service.  
Product Sales
Frank does not sell product at services.
Offering
Frank Butler Ministries is completely funded by offerings. Typically, the host takes a special offering for Frank's ministry at each service. Please give Frank one check payable to Frank Butler Ministries at the end of his visit.
Photos, Recording, & Live Streaming
 ank Butler Ministries gives you (the host) permission to:
Take photographs.
Make audio and/or video recordings.
Live stream services.
It would be appreciated if you would please send copies of photos and video recordings to: Frank Butler Ministries, 9423 Clipperwood Pl. Houston, TX 77083.
Speaking
Please provide the following for speaking:
Sound system and stage monitor speaker.

Pulpit or adjustable music stand (no tables).

Hand-held or lapel microphone (no over the head or over the ear headsets).

Bottle of drinking water (Aquafina preferred).

Login information for WIFI (if available).

Interpreter (if required).
Singing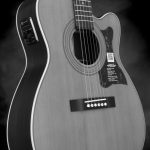 Please allow sufficient time for Frank to sing a few songs before speaking. When he arrives at the service, copy his song lyrics, in MS-PowerPoint format, from his USB drive to your presentation software so people can sing along.
Guitar: Please provide a good quality acoustic-electric guitar such as Epiphone, Fender, Gibson, Gretsch, Martin, Ovation, Rickenbacker, Takamine, Taylor, Washburn, or Yamaha.
Please ensure the guitar has the following:
Preamp, with bass, treble, and volume controls built in.
Light to medium strings.

Strap that attaches to the body of the guitar, not the neck.

Built in or external tuner.  
Mic and stand: Please provide a microphone and a stand with a boom arm.  
Stage Plan
Follow the stage plan below and complete a sound check BEFORE Frank arrives. Please tune the guitar and connect it to the sound system. If available, connect the guitar to a Chorus pedal. Please add a touch of reverb to the guitar and mic and confirm the guitar and vocals can be heard through the stage monitor speaker. 
When Frank arrives, please have a member of the audio team available to assist him with the setup.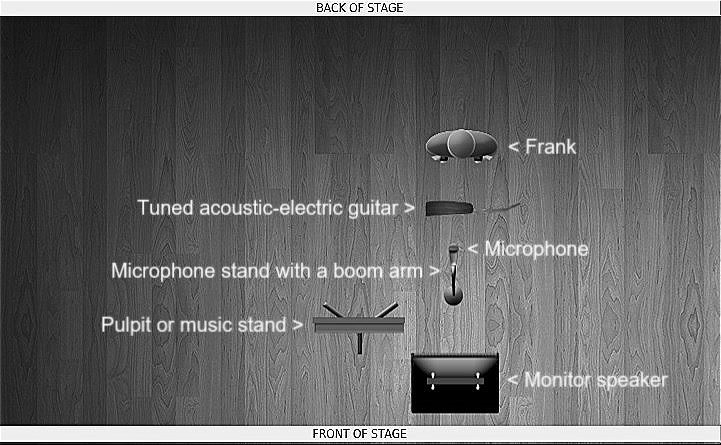 Altar Call Help
Please appoint men to assist Frank during altar calls. Have them only make physical contact with people who need assistance, stay alert, and pray quietly.

Please have one or two men stand behind people who have come forward for prayer and follow Frank as he moves down the line. Keep lines in order, lines should be only one person deep so catchers can move freely behind them. People waiting should remain in the aisles and "fed" up front as space permits.
If someone begins to fall, please break their fall by supporting and gently guiding them to the floor; making sure they do not harm themselves or others. When people are ready, please help them get up off the floor so they can return to their seats.
Please prevent people who are very emotional from injuring themselves or others.
Altar Call Music
For a peaceful atmosphere during altar calls please play soft, slow, worship songs by playing tracks through the PA system; or by playing live with a guitar or keyboard and two singers.
Frank would like to use songs from the list below:
Alleluia (Gaither)
Amazing Grace
Anointing Fall on Me (Ron Kenoly)
At the Cross (Hillsong)
Be Glorified (Ron Kenoly)
Draw Me Lord (and I'll run after You)
Emmanuel (Hillsong)
Give Thanks (Don Moen)
God of Wonders (Third Day)
God Will Make a Way (Don Moen)
Here I am to Worship (Hillsong)
He was Wounded for My Transgressions
Hosanna (Hillsong)
How Great is Our God (Chris Tomlin)
I Am the Lord that Heals Thee (Don Moen)
I Exalt Thee (Hosanna Music)
I Give You My Heart (Hillsong)
I Sing Praises to Your Name (Terry Macalmon)
I Surrender All
I Will Bless the Lord (Don Moen)
I Worship You Almighty God (Don Moen)
Jesus Something about that Name (Gaither)
Jesus Lover of My Soul (Hillsong)
Jesus Name Above All Names
Lord I Lift Your Name on High (Hosanna Music)
Love You so Much (Hillsong)
Mighty to Save (Hillsong)
Nothing but the Blood of Jesus
God is Good
O the Blood of Jesus
Power of Your Love (Hillsong)
Praise the Name of Jesus (He's my Rock)
Shout to the Lord (Hillsong)
We Fall Down (Chris Tomlin)
What a Beautiful Name It Is (Hillsong)
What A Friend We Have in Jesus
With All I Am (Hillsong)
Worshipping You (Deluge)
Worthy is the Lamb (Hillsong)
You are Holy (Hillsong)
You Deserve the Glory (Terry Macalmon)
Matthew 16:18 Jesus will build His church and the gates of hell will not overcome it.